Join for Instant Access
Join Femme Fatale Films and gain access to the best quality FemDom action on the web!
Member Benefits
Over 18,000 Minutes of High Quality FemDom Action Inside!
Over 13,000 High Quality Photos, All Fully Downloadable
Unrestricted Access to Over 2,500 High Quality Movie Clips & Over 880 All Action Complete Movies
Featuring 80 World Class Dominas & New Dommes Featuring Regularly
Full Access to Watch or Download All Films & Photos
Search Function allows you to find the films you want, fast.
All Films Available in High Definition & Mobile Device Friendly Versions
"I've joined so many femmedom websites over the years, but none of them match up to the quality, variation and authenticity that your site provides. You are probably the ONLY real home of femmedom left on the web today. All the dommes you feature appear to genuinely relish in their natural dominance and the way you capture the sessions on film is magical! I am truly devoted and enslaved by FemmeFataleFilms! - HS Member Feedback 6th March, 2019
Please visit CCBILL.COM, our authorized sales agent.
What We Love At Femme Fatale Films...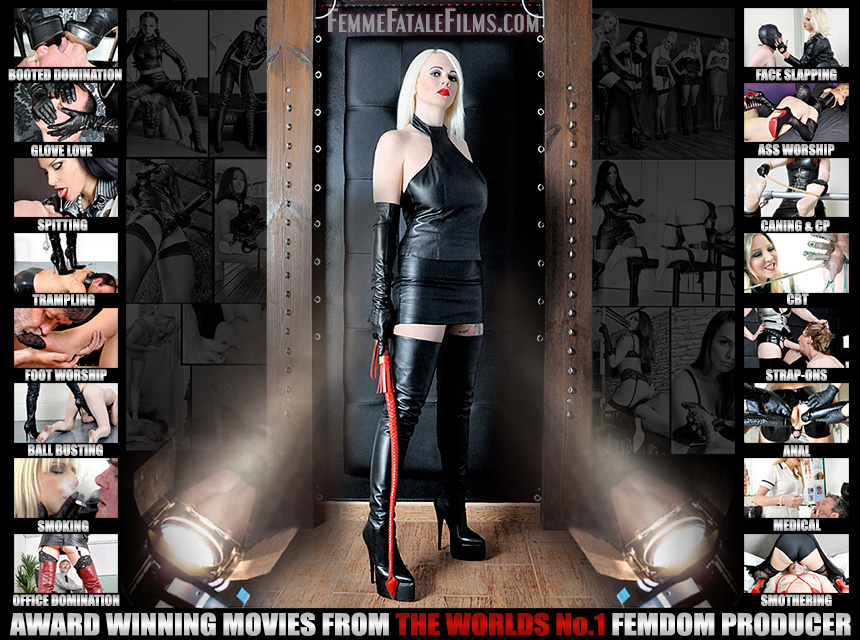 What People Are Saying About Femme Fatale Films...
"I am quite literally astonished at the quality and variety of movies you are updating on a daily basis. Many congratulations Mistresses, you are the BEST!" PH. Nov, 2020
"I would recommend your site to anyone who is a keen Femdom enthusiast. The range of action, ladies and the quality of production is second to none and I have to say your customer service when I offered myself up as a film slave was prompt, professional and courteous. I hope one day I might have the opportunity to grovel beneath your Queen, Mistress Heather..."RB Oct, 2015
"Just wanted to say how great your site is, only just found you and wish I had sooner. Would've saved me a huge amount of wasted time and money sampling other inferior sites. Mistress Heather is amazing, especially love her latest movies in roleplay...." KC Sept, 2015
"You guys have the best FD site out there! Can't thank you enough for some amazing vids, awesome action and the hottest Dommes on the web! Keep up the great work team!!!!" JJ Member, June, 2015
"At a time when the web is saturated with extremely poor female domination content, I was sceptical to join yet another membership website. I am so glad I found you and took the plunge! Your content is second to none and I cannot think of another site that even comes close to matching the variety and quality of footage you provide. The variety of Dommes is exceptional and clearly the scenarios are well thought out and have an essential aspect of realism about them, allowing me to immerse myself in the fantasy world of female domination I have loved for many years. If you have the need for filming slaves in...." P.B. Member Jan, 2015
"I am just writing to thank you for a wonderful site. I've been able to download the films I like. I particularly enjoy the ones featuring Mistress Eleise, and those with the magnificent Mistress Akella. Your productions values are very high and professional, no cameramen wandering into shot or talking, and as for the black leather outfits and boots you wear: they take my breath away. Thank you for providing long form films as well, such as "The Trial of A Slave" and "The Hurting". Once again, many thanks for a superb female domination clips website in a field where there are so many rip-off set-ups. I remain(if only in my imagination!) your humble slave rj" Member Feb, 2014
"I am a new member of Femme Fatale films and I am enjoying both the quality of the films and the incredibly intense and sadistic content and also the vast number of films available. Keep up the good work!" John Member, Jan, 2014
"...you trample over all other female domination sites with the quality of film and photo and I've joined pretty much all of them over the years. A connoiseurs delight :-)" Simon F Member, October 2013
"I came across your site by accident and can't believe what I've been missing! You have the best looking and most skilled Dommes on the web in your catalogue. The scenes are varied and exciting and without a shadow of doubt the best Femdom available on the web today. Keep up the great work!" - NK Member, August 2013
"I have only recently became a member of your site. I have been aware of it for some time but having been dissapointed in other sites devoted to female domination I was reluctant to join another.
I now realise what I have been missing because it is more than worth the monthly subscription." - AB Member, November 2012
"Femme Fatale Films is a highly recommended FemDomme site with very high quality videos and photos. With frequent updates, knowledgeable and sexy Mistresses, a nice sized archive, and easy navigation, this site is a must see for bdsm fans" - PornReviews.com, June 2011
"One of the best femdom websites we have ever encountered" — Femdom Site Reviews, Jan 2011
"It's obvious Mistress Eleise and Co. take this business seriously and their dedication to the craft really shines through in the material presented" — Porn Inspector, Feb 2011
"I simply had to write to congratulate you on your website, your movies are incredible, head and shoulders above most of the femdom bilge found on the www these days. You have yourself a new devotee." — J.C. Member, Feb 2011
"Finding your site was a revelation for me, the best $30 I can recall spending!" — Ed G. Member, Feb 2011
"I have spent many years (and many dollars) accessing sites like yours - and I can honestly say that yours is preeminent. Great value, high quality, sensual content, and outstanding ladies to boot (no pun intended)" — DCS, Member, Feb 2011
"Femme Fatale Films really is an enormously impressive new site in practically every way. But the quality of the content and the know-how and presence of the femdoms really does make this site even better, plus the presentation is absolutely superlative as well. This really deserves to be seen" - Honest Porn Reviews, Feb 2011
"Femme Fatale Films is one killer of a FemDomme site! While there are plenty of bdsm sites on the internet, this one stands out because of how impressive and knowledgeable their Mistresses are. I'm also impressed with the high quality content and the frequent updating. Even though the site is relatively new, they've already gotten a good sized archive built up, which shows their desire to be a top notch FemDomme site. I'd say they're well on their way; in fact, I'd say they already have arrived!" - Porn Reviews, June, 2011