I thought that would get your attention. It sounds dangerous and sexy, doesn't it? Well, not only is it dangerous and sexy - it is high time that it has happened. The solo female (camera) operative I'm referring to is, of course, the Hunteress. She has recently created an excellent project, Female Film Maker. Here it is, in the Huntress's words:
I set up the Female Film Maker through frustration with a lack of resources to help and assist other Females who would like to produce and sell their own fetish content. After around 10 years of exposure to the fetish industry, I decided enough was enough and set about offering a service that was honest, helpful and rewarding. Some of the following statements might be applicable to you and if you find yourself nodding to any of these, then I can help you.
You are a Domme who has a stream of slaves who want to film you/do your website for you in exchange for Your time/services/domination/relationship whatever.
You later find out said slaves have ulterior motives.
You want to produce your own content and want someone who understands your work and is able to work with you, to get the results you want.
You have no idea where to go to get the above, and some practical, impartial advice on how to sell that content.
You don't have a huge budget for filming, but want professional quality results.
You have guys who want to be in a film with you, but they feel nervous about having a man doing the filming.
You want to make some promotional videos for your fetish business, not sell fetish content per se.
You are looking for an additional camera operative.
You'd like someone to come and film your fetish event.
You want your fetish products filmed for a website or other advertising campaign.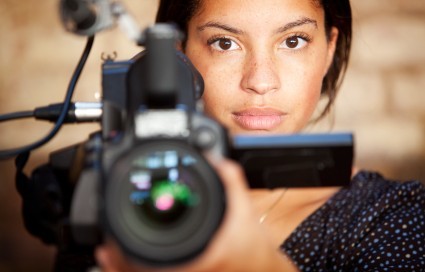 I love this. I love it when women work together. To learn more, follow the link to the Female Film Maker. Not only is the Hunteress providing ethical and professional film services, she also offers mentoring in various aspects of film making and marketing, giving the gift of independence to other women in the industry.