...and if so, why? Yes, this is a pre-emptive strike against the flak I assume I'll be getting for wearing this particular outfit in my upcoming film, Sergeant Stripes.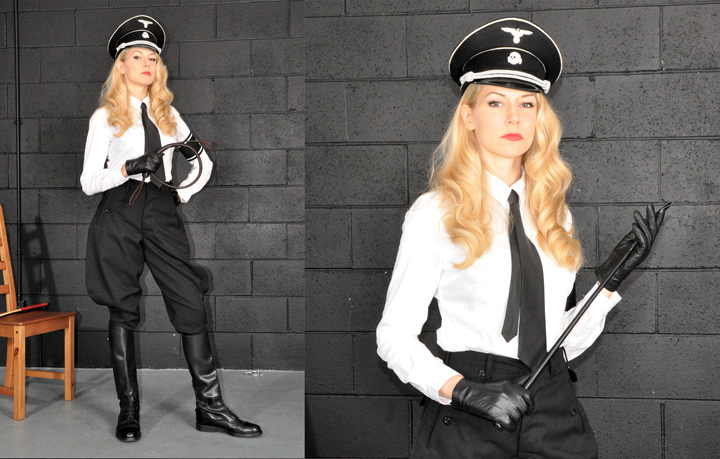 First of all, let me make this clear: I am not a Nazi. This is a costume. I am engaging in role-play. Just because I'm playing the role of an SS officer, it doesn't mean I endorse the philosophy or actions of the Nazi party. On my site you'll also see me dressed as a nurse. I'm not a nurse, nor is my wearing of the uniform an endorsement of the British National Health Service. It's role-play.
I'd also like to make this point: all military uniforms speak of evil. I once had a woman write to me, complaining about photo she'd seen of me wearing a leather cap, white shirt, and a black tie. This alone looked too much like an SS uniform for her liking - and if I wanted to wear a uniform, she'd prefer that I wore a Soviet one.
I was most puzzled by this, for as anyone with even a nodding acquaintance with 20th century history knows, Stalin's army was also involved in hideous atrocities. When I pointed this out to her she went into an abusive ad hominem bit of irrelevance, revealing herself to be someone who doesn't think with her head (something which offends me, though I didn't ask her to change it). Fortunately, my regular viewers and readers are much more intelligent than she. For you, this little notice is just a reassurance. I am not a Nazi. I am an equal opportunity sort of sadist. All men are fair game. Actually, no, scratch that - I particularly like making attractive, intelligent men cry, but that has nothing to do with any uniform you'll see me wearing on my site. It's just who I am on the inside.
And you don't have to like everything I do. In fact, I prefer you don't. I consider it important to push buttons. For those of you who are interested in the areas which are still taboo even in the BDSM scene, we've also got a film out now in which Madame Caramel engages in race play. I can tell you from personal experience, Madame has never been anything but genuinely warm and charming with me, as WASPy as I am. Madame Caramel is not a racist. She is a courageous explorer of the erotic, even when it isn't politically correct. Race play is a fetish, and one Madame enjoys and excels at.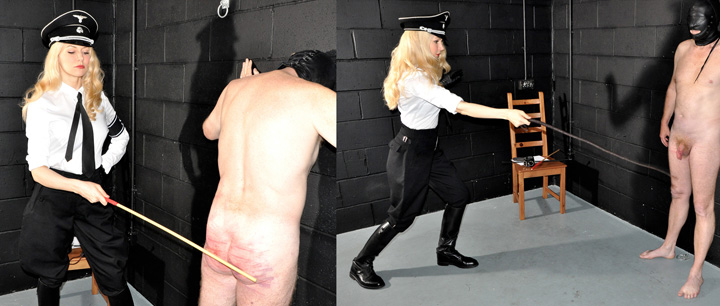 I applaud her for her fearlessness, and everyone else who dares to pursue his or her fantasies. If you feel like daring, I recommend you take a look at Mistress Darcy's website. She is in London from August 2-14 and indulges in challenging material like cuckolding, forced bi, hard sports, age play, and race play - and she does it with a devilish understanding of the fetishist's mind. Do be aware that although she is open-minded, she's also about as close to a goddess as you're going to meet, so when you contact her, do it with the utmost respect.