October has been an overwhelmingly fun month, so much so that I'll have to give it to you in instalments. It's just too much to take in at once! The games began Friday, October 5, which found me back in England at the London Fetish Weekend, a happening created and run by Mistress Absolute.
I showed up with no idea what to expect, only that there were to be seven designers presenting their work. Fashion shows can be hypnotic, or a complete shambles. I've seen plenty of both. The amount of hard work which is required to successfully fill those few minutes is beyond all proportion. I hoped for the best, then scanned the room as I waited for the shows to begin. The first familiar face was Mistress Ezada Sinn of Romania, who was to be our newest Femme Fatale. It was hard not to notice her, decked out in blue leather and whipping her personal slave with great enthusiasm. As the lights came up on the catwalk a second Femme Fatale materialised, Goddess Sophia, walking for the well-established magickans of bespoke latex, House of Harlot.
Femme Fatale the Hunteress appeared in her incarnation as the Female Film Maker, documenting SlaughterHouse Couture's first-ever show, an Escape from Arkham-themed production which I hope to share here soon. Gracing the catwalk for SlaughterHouse was Femme Fatale Mistress Jezabel, as the embodiment of the beautiful villainess, Poison Ivy. My friend, New York-based Mistress Darcy, was electric as the whip-cracking, gymnastic Catwoman. I also dressed head-to-toe in an outfit by SlaughterHouse, but in a civilian capacity. You can see from the photo below the sort of effect SlaughterHouse Couture has on people. If you don't like men and women falling all over you, bring a weapon of some sort. You'll need it.
Also at the party was Femme Fatale Miss Severity Myers, with her friend, erotic artist China Hamilton. As always, Miss Myers was a vision, Severity in furs.
With only a day in between to recover, October 7 I headed off to the House of Rubber Wrongness, a well-known penthouse of inequity in Camden. It was to be a day of true excess. Lady Sophia Black, Mistress Ezada Sinn, and Lady Lola were due to arrive for an epic day of play. You'll have to wait for those juicy details in Part 2.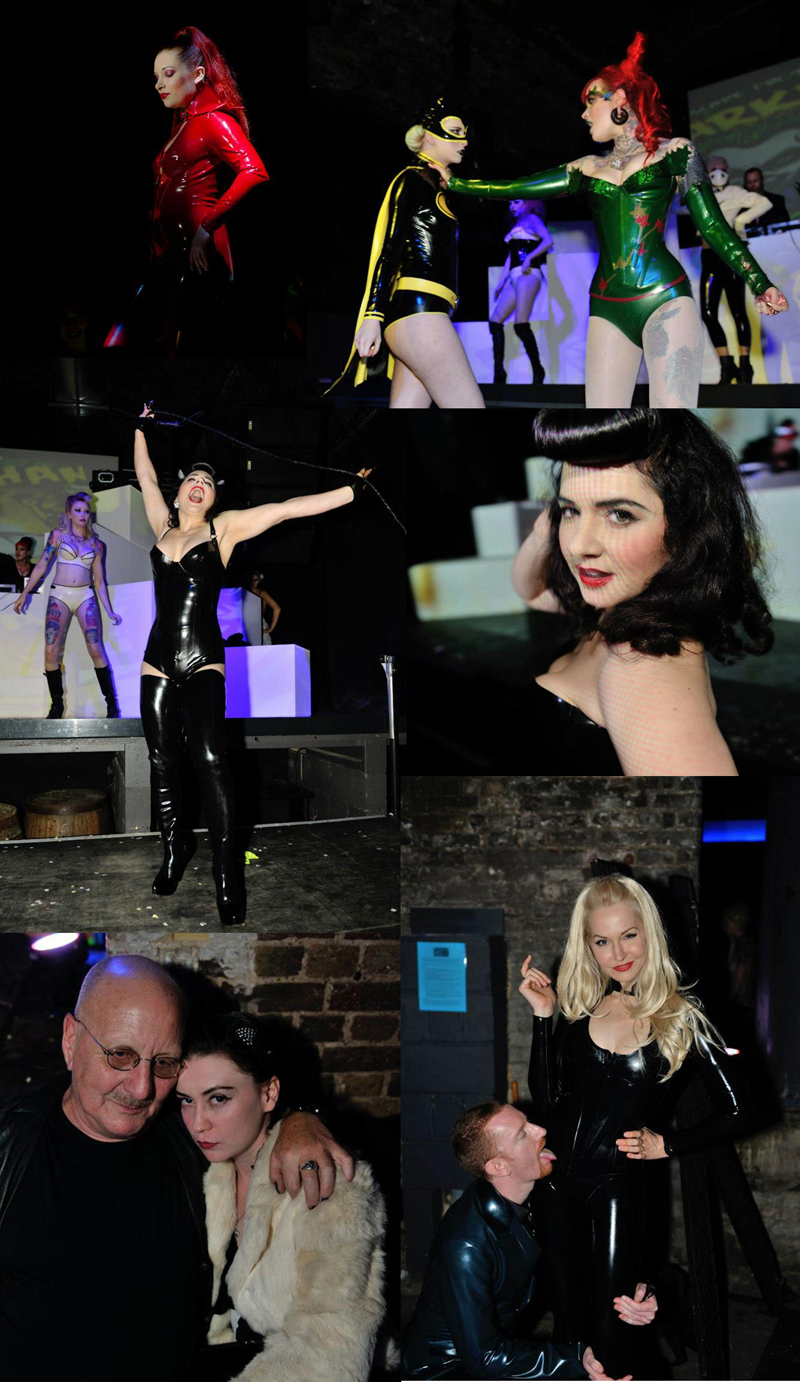 L-R, top to bottom: Goddess Sophia for House of Harlot, Batgirl and Mistress Jezabel for SlaughterHouse Couture, Mistress Darcy for SlaughterHouse Couture, Mistress Darcy, China Hamilton and Miss Severity Myers, Sir S (losing the plot) and Mistress Eleise. The first photo is by Peter Felix Kurtz, all others by Bobette.