Whilst the chilly grey weather of England does not appeal at this time of year, visiting London to film with some amazing Mistresses, combined with a spot of fetish shopping certainly does. My trip to London just last week was brief, but jam packed!
I had decided to keep this particular visit to the UK beneath the radar, as whenever I announce filming travel plans I tend to get inundated with private session or meeting requests. This trip was all about filming for FFF - although I did take pity on a couple of my long term devotees and managed to squeeze in a couple of sessions.
The shoot on Monday had me teaming up with Lady Mia Harrington. I had not had the pleasure of meeting Mia when I last sent my cameraman to film with her. I enjoyed the movies she'd previously shot for FFF and felt we'd be a perfect match, complimenting each other with our sadistic and sensual style of domination. My instinct was correct. I had much fun double Domming with Mia and was most impressed by the five slaves who came to film on the day. They all took a great deal of punishment and humiliation and I'm excited by the footage that I've watched back so far. Ball-Busting, Strap-On, CP, Boot Worship, Trampling, Forced Masturbation, CBT, Face-Sitting and so much more!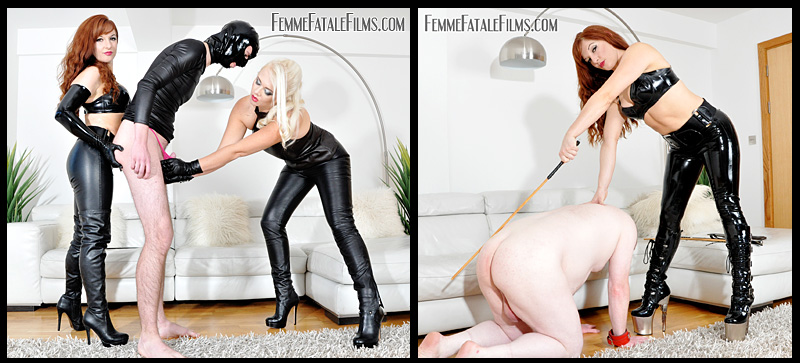 Lady Mia Harrington & Divine Mistress Heather
I was both thrilled and disappointed by Tuesday's shoot. Thrilled to be filming with The Hunteress once again, but disappointed that I was not able to stay for the shoot. She is always a total joy to watch in action. Leather tailoring and public humiliation with a lowly slave was the order of my day. I very much admire The Hunteress' cruel, brutal and authoritative manner and it is obvious to see why her movies are always a big hit on FFF. It is no surprise that she had a plethora of slaves all eager to serve and be abused. There are many amazing movies to come over the next few months including Military Role-Play with a Sjambok beating, Foot Worship, Strap-On and a fierce double Domme Ball-Busting scene with guest appearance from the incredible Cate Fury.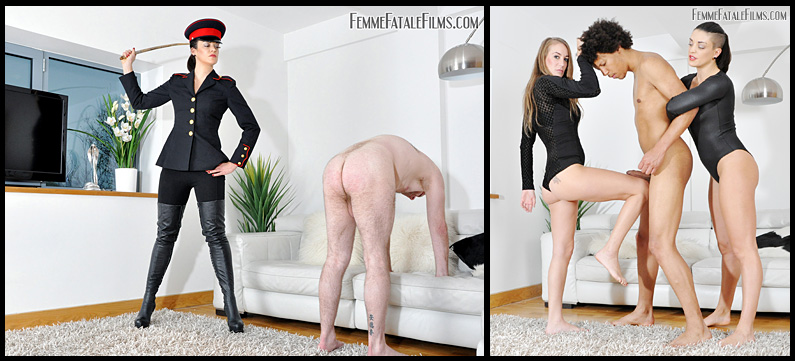 The Hunteress & Cate Fury
I had been especially looking forward to Wednesday's shoot as FFF was filming with a new Femme Fatale. I always get such pleasure in bringing new Mistresses to the website. I had spent many months enjoying Governess Elizabeth in my Twitter feed - admiring her mutual love of fabulous latex clothing and getting a good insight into her style of domination from her candid images. I knew she would make the perfect addition to our ever growing list of Femme Fatale's. Not only is she strikingly beautiful, but she has a unique style for manipulating her slaves, getting deep into their psyche, until they are begging to do and take whatever form of sexual therapy she so desires. Office Role-Play, Spanking, CP, Trampling, Medical Role-Play, Sounds, Anal Stretching, Strap-On and Milking are just a few of the things that you can look forward to from this highly talented Domina.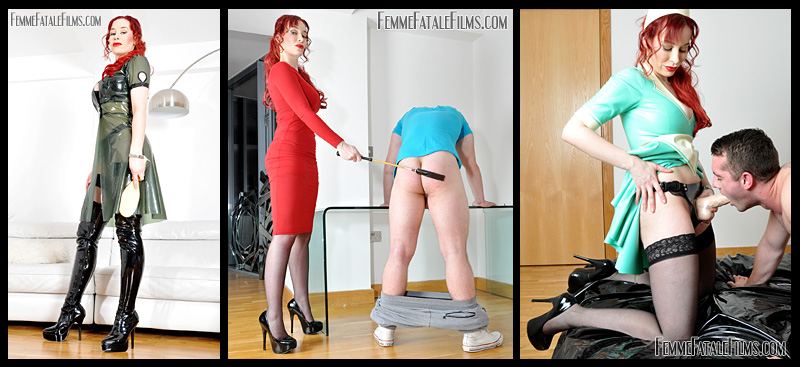 Governess Elizabeth
My final day in London was a Mistress Heather shoot day! While there are always a multitude of slaves offering themselves up, I particularly enjoy using slaves with whom I have formed a likeminded bond. I had spent a little time getting to know an avid latex enthusiast via email and after meeting him at Monday's shoot, I knew he'd be perfect for some latex loving ideas I had for Thursday's shoot. I cannot even begin to articulate how much I love latex, so it was a real treat to find a slave who shares my passion, not to mention a huge latex wardrobe to boot! Predicament Latex Worship, CBT, Electrics, Face-Sitting, Spanking, Spitting, Sensory Deprivation and Forced Masturbation are just a few of the things that this very fortunate slave got to enjoy with me.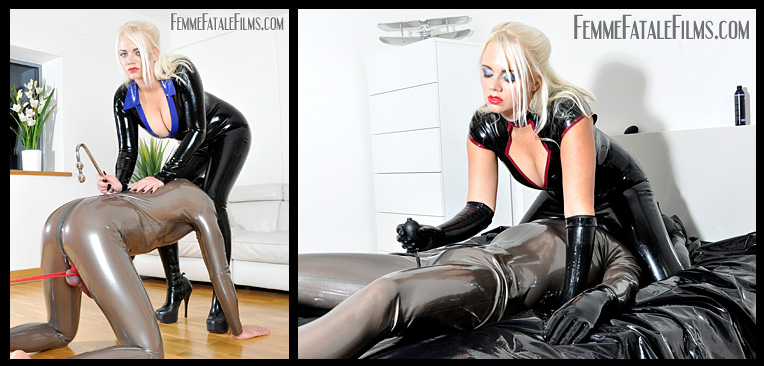 Divine Mistress Heather
I'm extremely pleased with all the delicious action that was shot on this trip - thank you Ladies!
Special thanks to my favourite Make-Up Artist and fellow fetishist, Fatal Femme for making my shoot dates that much more special.
And lastly, thank you to the many film slaves who attended. There were quite a few slaves who impressed me on this trip! Well done ;)