Miss Amy Hunter came to visit this month, and she left quite an impression. A lax domestic slave was firmly corrected, having to earn his leash back through acts of contrition and the acceptance of punishment. I was particularly pleased to see a good hand-tawsing put to use. I often forget just how effective that is, particularly combined with the right sort of eye contact, which was certainly present in this case. I wasn't sure if the slave was trembling from pain, or the weight of Miss Amy's piercing blue stare.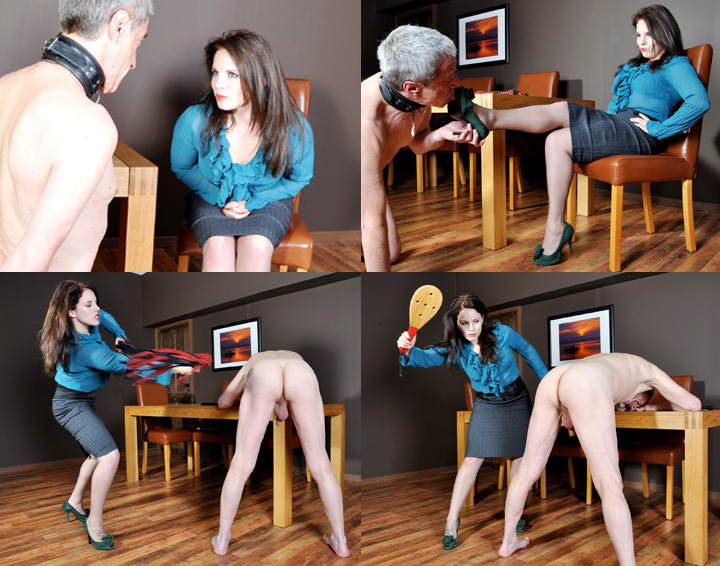 An exceptionally exciting display of physical domination was also documented. Normally, when I see Femdom wrestling films, the man involved simply isn't trying. He's allowing himself to be mauled by an attractive woman. Now, I can't say that I blame these boys (what man wouldn't want to be pinned down by a gorgeous goddess?) but it takes the fun out of it for me as a viewer. I want to see him struggle.
Oh my, how this one struggled. As the wrestling went on it became less and less playful. He resisted tapping out, desperate to save his pride. He tried to tap discreetly, on the side away from the camera. Yes, slave Y, I noticed that. Finally, when his endurance had been spent, Miss Amy laid on a serious OTK spanking, pinning him however necessary and blistering his backside until he admitted he'd lost. To hammer the point home, he was made to kiss Miss Amy's beautiful bottom. If he'd known that would be his final 'submission hold', perhaps he'd have given in sooner!